THE DIVE COMPUTER FOR BOTH YOUR WORLDS
Monitor your gas and depth1 with the advanced, watch-style dive computer that comes with multisport training and smart features.

QUALITY BY DESIGN
The advanced, watch-style dive computer with a rugged yet sophisticated design that features a large sunlight readable 1.4" color display.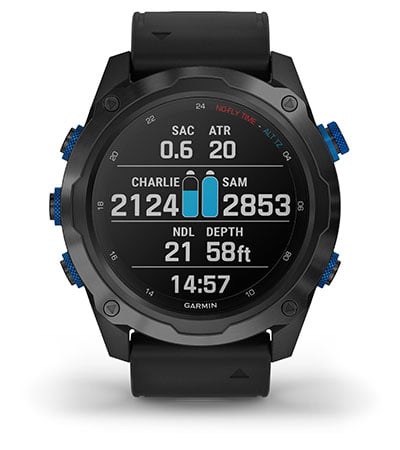 PREMIUM MATERIALS
Fit the look to your lifestyle with a stylish titanium bezel.
AIR INTEGRATION
Pair with Descent T1 transmitter for integrated pressure monitoring on up to 5 tanks via SubWave™ sonar data network1.
SUBWAVE SONAR
Transmit data — such as remaining air time, air consumption rate and more — for you and other divers within a range of 10 meters1.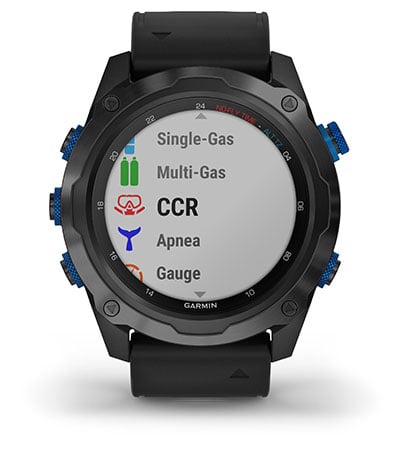 DIVE MODES
Get multiple dive modes for single and multiple gas dives (including nitrox and trimix), gauge, apnea, apnea hunt and closed circuit rebreather.

CUSTOMIZABLE DIVE MODES
Add additional screens for each dive mode that features the fields you want to see.

SURFACE MULTI-GNSS
Track your entry and exit2 points with advanced satellite connectivity.
DIVE LOG

Store and review data for up to 200 dives — and share via the Garmin Dive app. INREACH® COMPATIBLE Pair with inReach satellite communicators3 and the inReach dive case.

Features:

Advanced, watch-style dive computer with 1.4" color sunlight-readable display (36% larger than previous model) in an elegant yet rugged design
With six dive modes as well as multi-GNSS support and ABC sensors — including an underwater compass — know every part of your dive from entry to exit (GPS tracking does not work underwater)

Pair with the Descent T1 transmitter (sold separately) for integrated pressure monitoring on up to 5 tanks via the SubWave sonar data network, and see remaining air time, air consumption rate and more for you and other divers within a range 10 meters

Features enhanced wrist-based heart rate estimates and Pulse Ox (this is not a medical device) sensing of blood oxygen saturation to support advanced sleep monitoring and altitude acclimation at high elevations

Includes built-in support for multiple sports apps, advanced training features, contactless payment, music storage with premium streaming service support (subscription may be required), smart notifications for calls, texts and calendar alerts and more

Dive log lets you store and review data from up to 200 dives right on your wrist and share and review dives in the Garmin Dive app downloaded to your paired compatible smartphone

Battery life: up to 80 hours in dive mode, up to 16 days in smartwatch mode and up to 15 hours in GPS mode with music
Options: KNOW YOUR TANK PRESSURE FROM YOUR WRIST
• Transmitter - Track your every breath when you pair the Descent™ T1 transmitter with a Descent dive computer. Monitor up to 5 tanks via SubWave™ sonar technology so you can dive with multiple tanks or see your buddy's air levels1.  Descent T1 enables you to monitor tank pressure, remaining air time and air consumption rate for multiple types of diving.
In the box-
Descent Mk2i Titanium Carbon Gray DLC with Black Band
Descent Mk2i, titanium carbon gray DLC with black band
Black extra-long adjustment strap
Charging/data cable
Documentation
1

 
Additional equipment (sold separately) and device pairing required
2

 
GPS tracking does not work underwater
3

 
Sold separately; active satellite subscription required
4

 
This is not a medical device and is not intended for use in the diagnosis or monitoring of any medical condition; see Garmin.com/ataccuracy. Pulse Ox not available in all countries.
7

 
May require premium subscription from a third-party music provider
8

 
View current supported country, payment network and issuing bank information
SPOTIFY and the Spotify logo are among the registered trademarks of Spotify AB. Amazon Music and all related logos are trademarks of Amazon.com, Inc. or its affiliates.